Live Music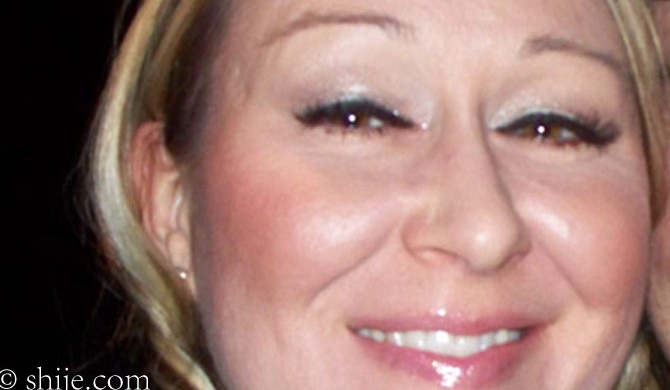 First, a hat. I wear sun-protection everywhere, even from the tour bus in the parking lot to inside the restaurant Hash House A Go Go. Notice, I come prepared to enjoy food. I have my hair back, all Jan Brady style. Keeps my hair out of the syrup! This is the very popular Sage Fried Chicken & Waffles
Two sage fried chicken breasts with hardwood smoked bacon waffle tower, hot maple reduction and fried leeks
Isn't it so great to feel fed? A good way to start a rocking night, too! Here's a link to the whole menu, so you can plan your trip to Las Vegas better.  http://www.hashhouseagogo.com/vegas/menu/
That's Ivo my hairstylist. Here is where the magic happens. His hand is like, "Voila!" He even cuts my hair and uses all Paul Mitchell products. If I look good, it's what Ivo did. At the Paul Mitchell Songwriters Showcase, I sang my "d.y.g." with 3 horns, 3 back-up singers and my full band. It was really special, have a listen. https://itunes.apple.com/us/album/d.y.g./id597859708?i=597859716
Or have a free watch, it's us live doing it on many different stages, synched to the CD version! Now be sure to have a good breakfast, we love you.
The Shije Band

Get the 12 song album Shije https://itunes.apple.com/us/album/shije/id597859708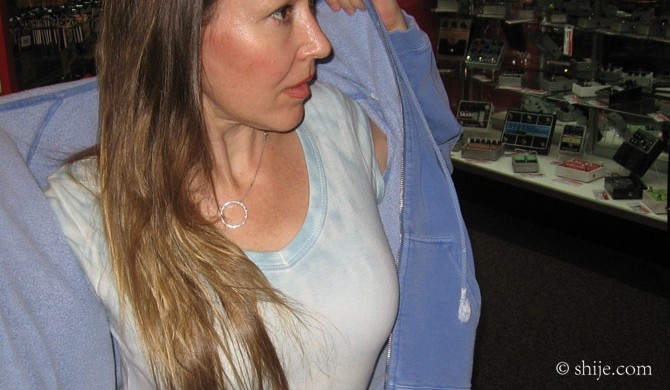 Meet us here. Free, open to the public! New York City! The next Benny Landa at Sam Ash All-Ages Rock Show is Wednesday, September, 11, 2013 at 6 – 9pm.  Sam Ash Music Store @ 333 West 34th Street (between 8th & 9th Aves.)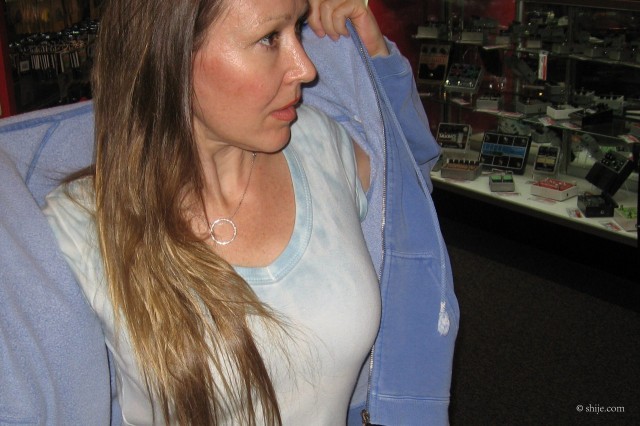 This Meet and Greet was necessary musical recreation for mid-week, mid-heatwave NYC. Pictured here is the July event. Ah, cool air conditioning blast on a hot day! That's how Benny's song feels that goes "We all need a change" and it's instantly a sing-along. Have a listen. http://www.reverbnation.com/bennylanda  I was so happy to see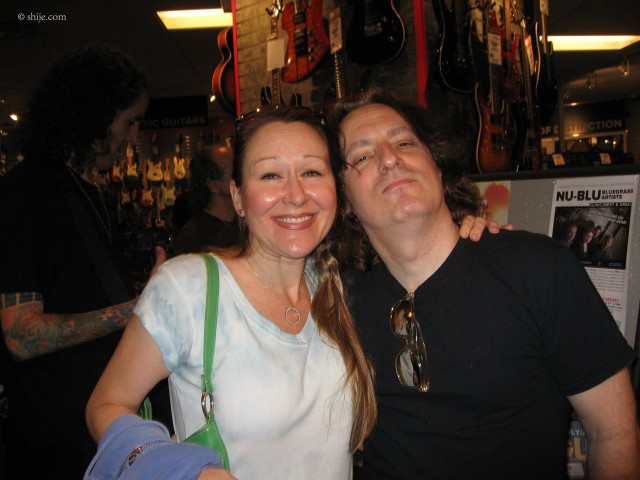 not only expert rock guitarist and singer-songwriter Benny Landa, but also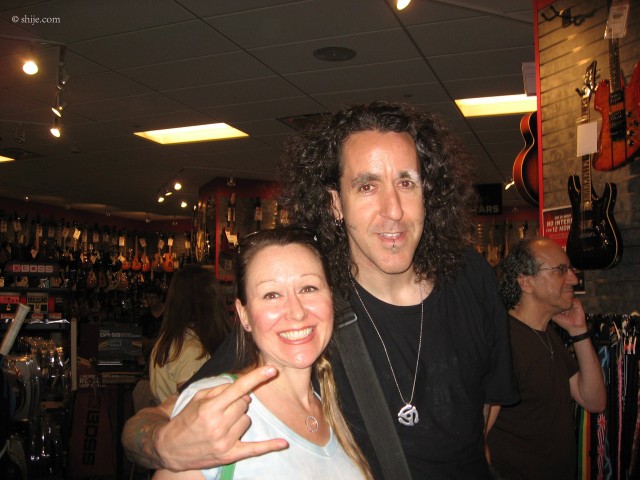 a Broadway veteran, the man behind the thumpiest part of the music, performing all over town in many orchestra pits, but most notably Rock of Ages, Spiderman and now Cindi Lauper's Kinky Boots: bassman Ivan "Funkboy" Bodley and the multi-instrumental, also thumpy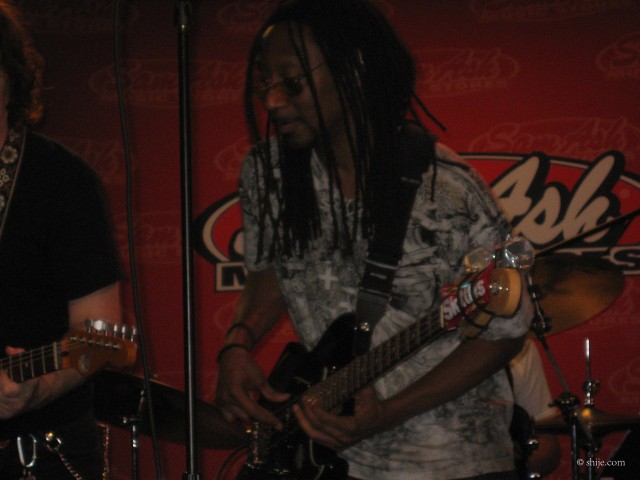 Les July, pictured here with Skittles. ( http://www.lesjuly.com ) Then surprise! I spotted my good singer galpal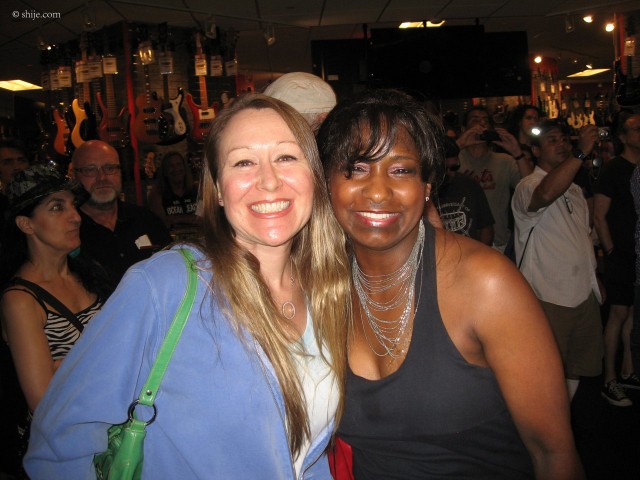 Andrea Watts there, taking pictures of guitars and rockstars! We made new musical friends.
In Benny' Landa's band is drummer Steve Holley of Paul McCartney & Wings fame. From the press release: "New York musician Benny Landa will be there to play the melodic grooving rock he's so well known for. Benny's bringing in some 'friends'…get a load of his lineup of friends!"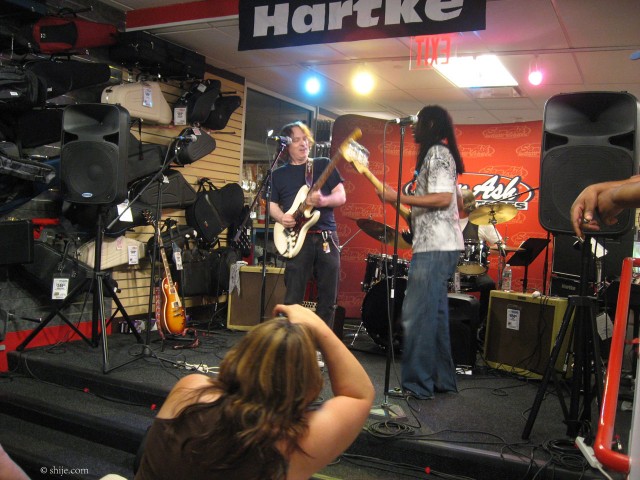 Benny Landa / guitar, vocals (Robert Gordon, Howard Tate, Graham Nash, Carole King, Shije, Otis Blackwell)
Steve Holley /drums (Ian Hunter, Paul McCartney and Wings, Joe Cocker, Julian Lennon)
Chris Palmaro / keyboards (Michael Jackson, Aretha Franklin, Sting, SNL band)
Les July / bass, vocals (Dr.Dre, k.d. Lang, General Public, The Bus Boys)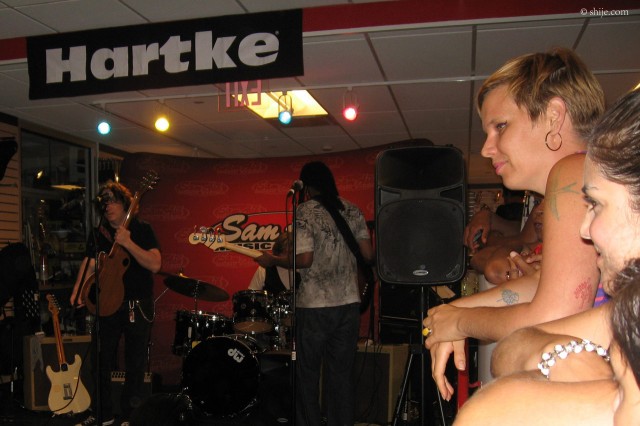 It rocked! I played three different guitars, then I bought strings and picks. Walking home, I saw a fire hydrant opened on 21st Street. I walked right through the spray and felt refreshed, especially after hearing Benny's songs live. The vocal harmonies, Les, Chris, Benny and Steve nailed them. For being the hottest day of the year, July 17th, (a heatwave advisory day, no less) Benny and Friends had a great turn-out, a full audience and lots of appreciation for the musical gifts these guys have honed. Good, soulful music was just what we all needed, like a big splash of cool water on a hot day.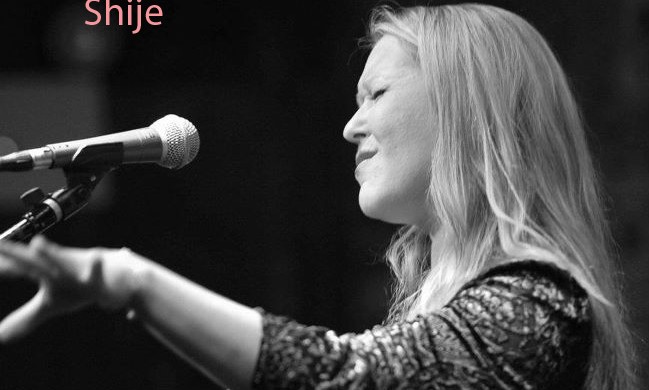 Mamoun's is my favorite falafel place. Here, have a live video of Santa Ana Winds. The black and white pic above is by Doc Magick, and I'm onstage at The Bitter End on Bleecker Street. How did I find world-renowned, healthy, delicious food after we finished a gig at Sullivan Hall? I found my way there via the app MenuRavesNY.
"You know how much food I can buy for a twen? The band is gonna love this."
https://myspace.com/shijesings/videos
Buy your favorite songs at https://itunes.apple.com/us/artist/shije/id590945938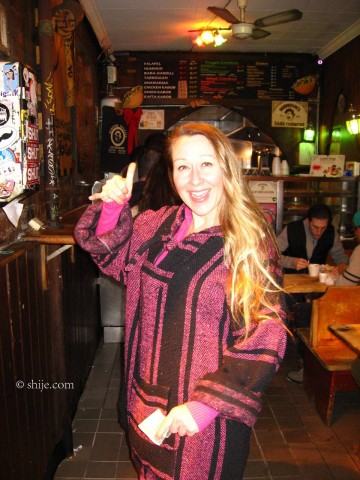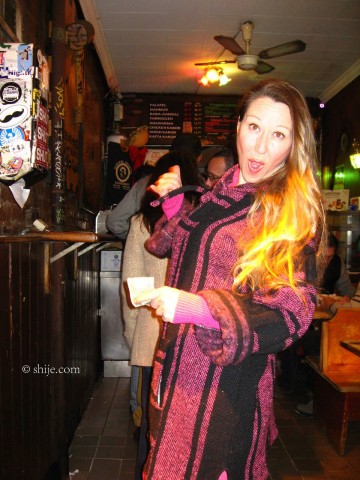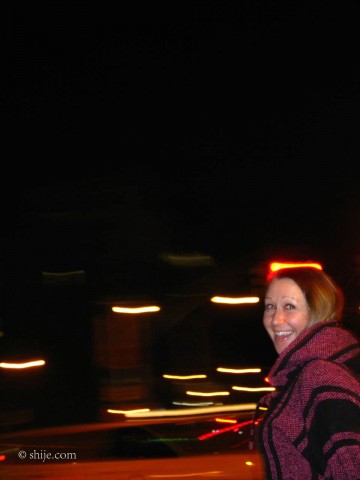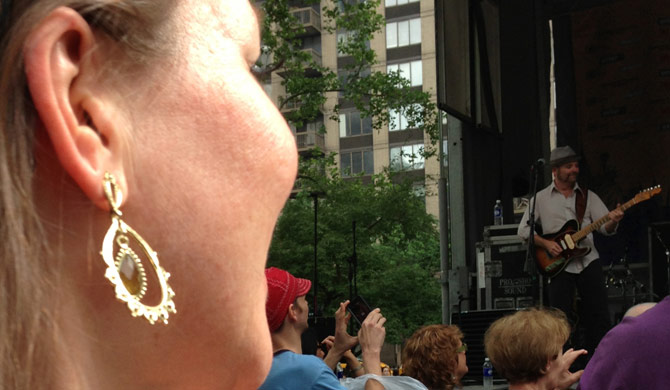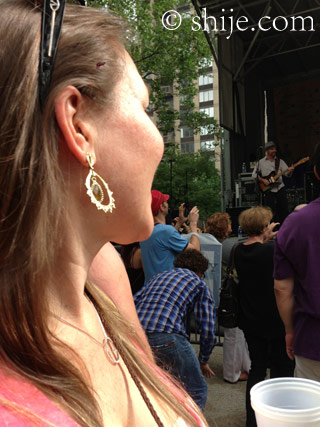 Shije: Great party! I have a CD for you!! & 18 seconds of you on the Marcia Ball stage! 

Mike: Beer drinkin backstage schmoozing merch selling panorama
Mike: Small world thought for the day: when I was ski bumming in Lake Tahoe I played every Tuesday at Bar of America…Steve Kershisnik was my bass and sometimes B-3 player…I have not listened to this disc yet, but we will en route to CT this afternoon.
Shije: He was on Tom Jones' gig & I think is in the band of TJ in movie Mars Attacks. Pretty much my entire band was pictured in that TJ band scene, shot in Vegas. I was an event planner for PGA events there, after years as a thankless backup singer for an impersonator show. I used TJs band during the day during their 2 week runs every six months. It took 22 months to complete.
M: He ever played you the Tom Jones record recorded in Memphis with the Stax and Muscle Shoals rhythm sections? All cool b side soul tunes that no record company would have ever released…
S: I've seen his show 56x, I never wanna hear GreenGreenGrass of Home nor Delilah again!!!!
M: He's paying the bills.
S: Totally then we'd go all Primus creative. Steve is a fun cat. TJ plays 330 dates a year. Respect!
M: That's a lot of women's panties.
S: Oh yes that actually happened. They'd still be on the stage next day at 5pm sound check. Hotel porters would come sweep them up. Grandma gal sizes. TMI?
M: He should make quilts of them and donate them to charity.
S: Quite enterprising! I'll buy you a sewing machine & spread a rumor that you love big girls' lacies! All quilts will have a tag sewn in w your lawyers # for quilt cases of STDs or crabs or bedbugs. Not so sexy now is it.   lol
M: No, the danger…is even sexier. And…that would not be a rumor.
S: Tmi ! Lol! I'm on FB w chat w Novak same time. Am I in 10th grade? And you drove the Zamboni? Someone trusted you with the Zamboni?!
M: Not just any Zamboni, they had purchased that from Sonja Henie's personal ice rink after a fire had messed it all up and she replaced with one you didn't hafta shovel out manually…not that she had to shovel out her own Zamboni but…or maybe she did I dunno.
As memory serves me this is more communication between us than our entire childhood combined, much less the 10th grade…not that that's a bad thing, I'm glad to be in touch…jus sayin.
S: My sister was named after that skater. Our parents didn't find out they misspelled it til later! #lifeb4Google
M: My middle name is Howard, after my great grandfather Harold, who preferred to be called Howard and they didn't know until he died.
God damnit…I kinda wanted this CD to suck so our hater car could get a good laugh on the road, but no…it had to be great, thanks…
When did you do this? It's kinda got a Alanis Morrisette 90s vibe…funkier tho…hope that's not a dis, I mean that in a good way.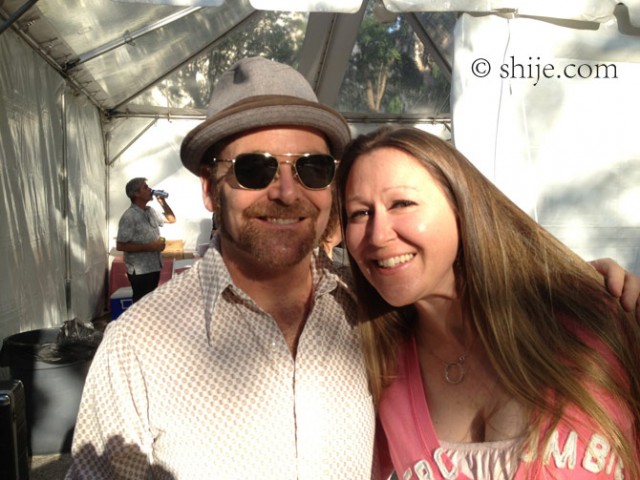 Nice job…Dig Yo Grave, cool tune.
S: Thanks.
M: Well Shije…you've achieved a first in this car…we have never listened to a cd all the way through without using the fast forward button…that may not sound like much of a compliment, but you'd have to know the 3 jaded musicians in this car.
S: You, Don & sax? I accept your compliment and the weight it has.
M: Me Don and Damien (drummer).
S: A+ drummer that kid. Plus I respect you all's opinion, so that means so much.
M: Damien goes "well damn, this is no fun…this chick is actually good" and puts his headphones on. He's no kid btw, a young 38.
S: Hahaha haters will hate.
M: We get a lot of cds handed to us…
S: But mine is the best ever. You can say it. Joe Bonamassa has. And Prince's band. I met them at The NAMM show. You're not alone in loving my music, that's all I'm saying. You're in good company. I love people connecting with the stories & writing their own stories out of it. I get the most heartfelt mail.
M: Ummmm…
S: So now, in Austin, you do this A+ solo project on Marcia's nights off? With those same cats?! Stellar!
M: Thank you!…in Austin a bit, not so much. It's complicated booking around MB's sched. 
In California I can get away with it easier because I have a solid relationship with all those venues.
I do a Monday night blues gig in Austin when I'm home, and that band lets me sub it out when I'm not. We do a few of those songs, but it's more of a straight ahead Texas blues band.
S: Cool…meaning TX covers? ZZ, et al?
M: No…older stuff…T Bone Walker, Freddie King, Albert Collins, BB…and Chicago blues like Little Walter, Muddy etc…but with a Texas attitude…like early T-Birds I guess, especially when our harp player and singer is there…personnel varies week to week, it's actually the drummer's band. He and the bass player are the only constants because they don't tour. It's super fun…at a funky dive on the eastside, bad part of town…hipsters and swing dancers come there to feel dirty.
There's this young piano player singer named Emily Gimble on the gig sometimes who you would love…has one of those throwback voices 27 yrs old and sounds like Little Esther or Dinah Washington…
She's Johnny Gimble's granddaughter…google him if you don't know him…fiddle player for Bob Wills and on hundreds of legendary country recordings.
You…jinxed me…all that talk about Tom Jones and his merch? Or…lack thereof…well, guess who left Marcia's merch case in the hotel lobby this morning.
S: Oh noooo! Time for a fast FedEx from home! You're Gordon Lightfooting it!
M: Oh Gordon Lightfoot, not TJ…whatev. I messed up…MB handled it well, I like my boss.
S: Good. lol okay so Matt Andrae & I are doing a song together via Skype! A la Tuck & Patti Unchained Melody.
M: Nice, tell him I said hey.
M: I'm the same way…have an awesome gf, haven't written in 6 mos.
S: Lol you all only write blues?!?
M: And soul ballads, and dumb funny stuff…you mean there's more?
S: LOL!