USA Country Music Stars Q & A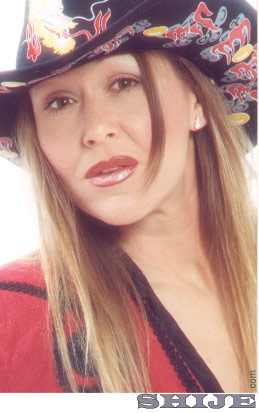 Embarrassing or fun first times in front of an audience?
Joanna Smith: Forgetting the lyrics and humming 'On Down The Line' by Patty Loveless. I was six; it was at The Little Miss Peanut Pageant.
Shije: I forgot the words to 'Unchained Melody' in front of a big audience a huge casino pool party. So I made words up. People looked confused. They kept trying to sing along. I figured out the words again by what they were singing. Thanks, audience!
Katie Armiger: I remember handing the DJ my cassette tape, and singing 'Wide Open Spaces' by The Dixie Chicks on a karaoke machine.
Drake White: We set up in a cu-de-sac and the law came. The cop said that she had a friend that owned a bar and that the band had canceled that night. Bam! We were the instant house band.
Jobs you've had? Any crazy ones?
Josh McSwain (Parmalee): A repo man.
Brett Eldredge: Little League referee.
Shije: Wedding bartender at a yacht marina. It's hard work! Sometimes we'd do many weddings a day. Then there's clean up.
Charlie Worsham: I once opened for an Elvis impersonator at a nurses' convention!
Dustin Lynch: In an environmental lab, testing chemical waste and sewage!
Drake White: I hitchhiked all the way around New Zealand, playing at random bars.
Jobs you can see yourself doing? In another life, what dream would you pursue?
Chris Janson: I'd be an outfitter or hunting guide.
Drake White: A motivational speaker.
Clara Henningsen: A marine biologist.
Kacey Musgraves: A yoga teacher or makeup artist.
Shije: I'd want to be a chef. I'd model for sculpture classes at art schools. I'll design furniture or custom condos like Lenny Kravitz does now. And I love interviewing others and writing books.
Katie Armiger: I love psychology and helping people, so I would probably be a counselor.
Joanna Smith: A State Department or United Nations employee.
Tour grub?
Jon Pardi: Biscuits and gravy.
Shije: Chicken and waffles. But late in the day I like guacamolé. Hot chips with cold Lone Star Beer and southern cooking.
Katie Armiger: Any sort of macaroni and cheese!
Tyler Farr: Boiled peanuts.
Maggie Rose: Popcorn and Vietnamese pho that's super-spicy with sriracha hot sauce.
Memorable concerts? Earliest live music moments?
Rachel Farley: My first concert was when I was four, and it was to see Britney Spears.
James Wesley: Alan Jackson.
Suzanne Alexander: Reba. I couldn't even eat that day, I was so nervous to see her.
Ben Helton (Bush Hawg): The Allman Brothers when I was 13.
Storme Warren: It was 1980. Glen Campbell, Jim Stafford, Roy Clark, and Tammy Wynette.
Shije: The VH1 Divas Concert filmed in Las Vegas and I got to be an audience extra! So I was right close to the stage when The Dixie Chicks sang 'Landslide' with Stevie Nicks. It took my breath away, I was so musically starstruck. They all inspire me to sing.
Randy Houser: Seeing my daddy play in a band when I was real young. That is when I knew I wanted to play music.