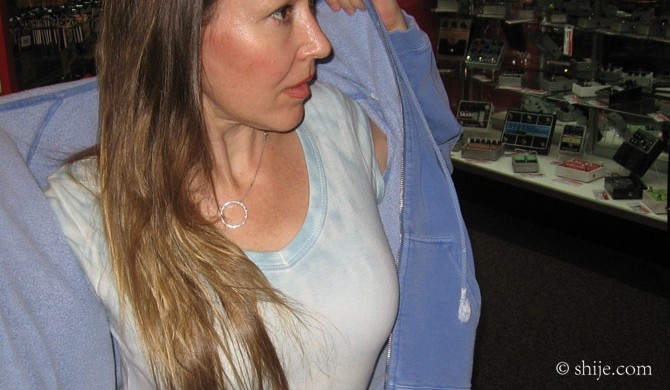 Shije Meets Benny Landa: a Sam Ash All-Ages Show
Meet us here. Free, open to the public! New York City! The next Benny Landa at Sam Ash All-Ages Rock Show is Wednesday, September, 11, 2013 at 6 – 9pm.  Sam Ash Music Store @ 333 West 34th Street (between 8th & 9th Aves.)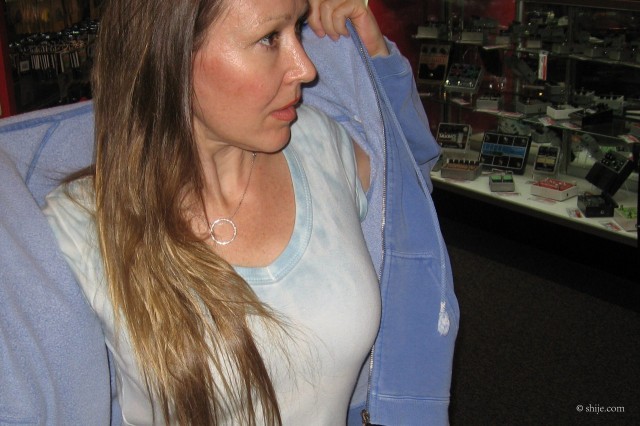 This Meet and Greet was necessary musical recreation for mid-week, mid-heatwave NYC. Pictured here is the July event. Ah, cool air conditioning blast on a hot day! That's how Benny's song feels that goes "We all need a change" and it's instantly a sing-along. Have a listen. http://www.reverbnation.com/bennylanda  I was so happy to see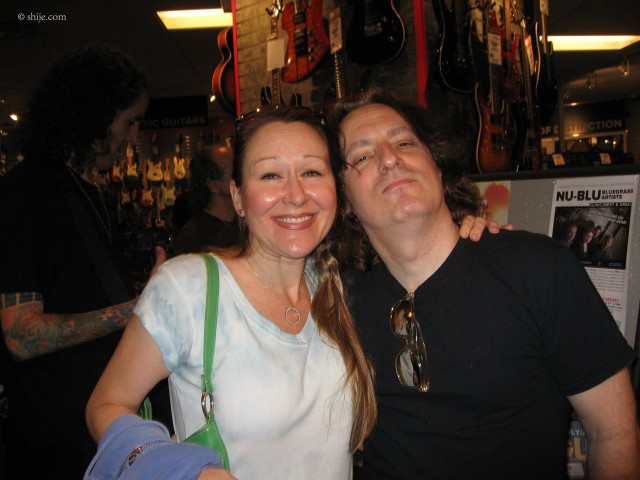 not only expert rock guitarist and singer-songwriter Benny Landa, but also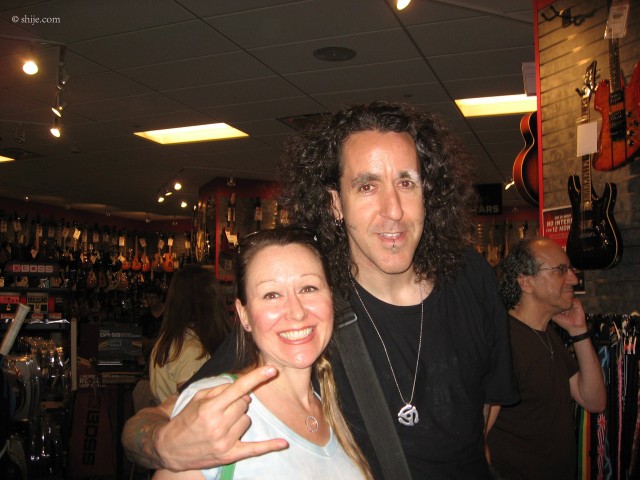 a Broadway veteran, the man behind the thumpiest part of the music, performing all over town in many orchestra pits, but most notably Rock of Ages, Spiderman and now Cindi Lauper's Kinky Boots: bassman Ivan "Funkboy" Bodley and the multi-instrumental, also thumpy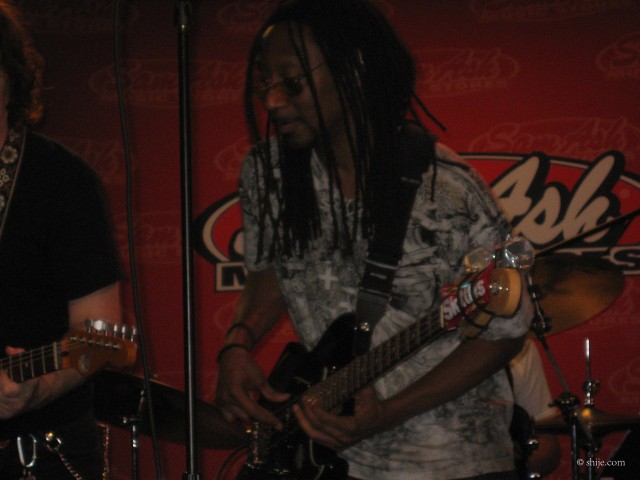 Les July, pictured here with Skittles. ( http://www.lesjuly.com ) Then surprise! I spotted my good singer galpal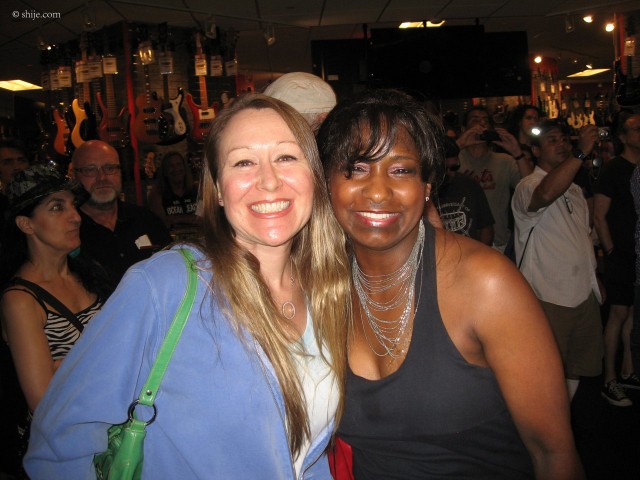 Andrea Watts there, taking pictures of guitars and rockstars! We made new musical friends.
In Benny' Landa's band is drummer Steve Holley of Paul McCartney & Wings fame. From the press release: "New York musician Benny Landa will be there to play the melodic grooving rock he's so well known for. Benny's bringing in some 'friends'…get a load of his lineup of friends!"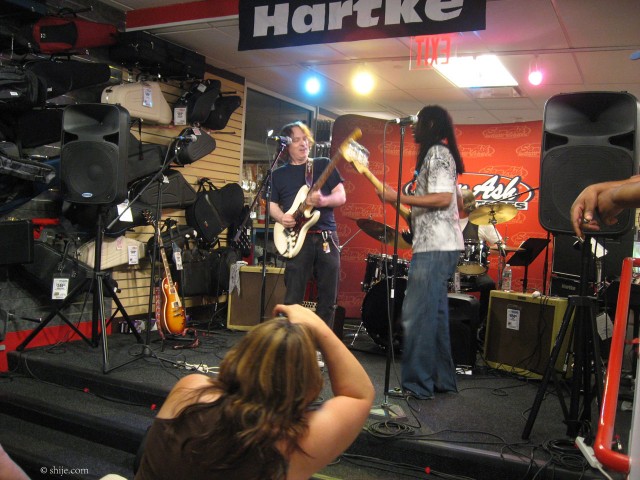 Benny Landa / guitar, vocals (Robert Gordon, Howard Tate, Graham Nash, Carole King, Shije, Otis Blackwell)
Steve Holley /drums (Ian Hunter, Paul McCartney and Wings, Joe Cocker, Julian Lennon)
Chris Palmaro / keyboards (Michael Jackson, Aretha Franklin, Sting, SNL band)
Les July / bass, vocals (Dr.Dre, k.d. Lang, General Public, The Bus Boys)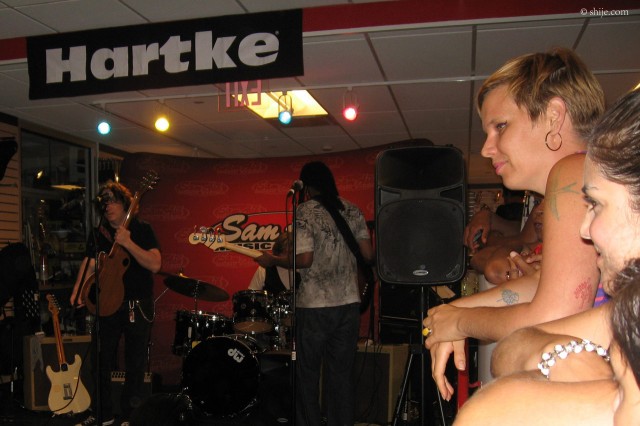 It rocked! I played three different guitars, then I bought strings and picks. Walking home, I saw a fire hydrant opened on 21st Street. I walked right through the spray and felt refreshed, especially after hearing Benny's songs live. The vocal harmonies, Les, Chris, Benny and Steve nailed them. For being the hottest day of the year, July 17th, (a heatwave advisory day, no less) Benny and Friends had a great turn-out, a full audience and lots of appreciation for the musical gifts these guys have honed. Good, soulful music was just what we all needed, like a big splash of cool water on a hot day.